My Blog
Posts for: March, 2018
By Bren O'Connor DDS, Fred Riddle DDS
March 30, 2018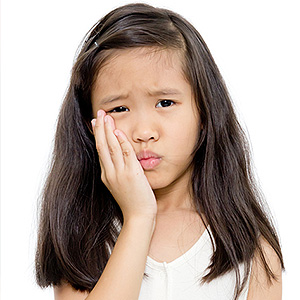 If your child begins complaining of tooth pain without an accompanying fever or facial swelling, it's likely not an emergency. Still, you should have us check it—and the sooner the better if the pain persists or keeps your child up at night. There are a number of possible causes, any of which if untreated could be detrimental to their dental health.
Before coming in, though, you can do a cursory check of your child's mouth to see if you notice any abnormalities. The most common cause for a toothache is tooth decay, which you might be able to see evidence of in the form of cavities or brown spots on the tooth's biting surfaces. If you notice swollen or reddened gums around a tooth, this could be a possible sign of a localized area of infection known as an abscess. You should also ask your child if they fell or were hit in the mouth and look for any signs of an injury.
If you don't see anything unusual, there may be another cause—stuck food like popcorn or candy lodged and exerting painful pressure on the gum tissue or tooth. You may be able to intervene in this case: gently floss around the affected tooth to try to dislodge any food particles. The pain may ease if you're able to remove any. Even so, if you see abnormalities in the mouth or the pain doesn't subside, you should definitely plan to come in for an examination.
In the meantime, you can help ease discomfort with a child-appropriate dose of ibuprofen or acetaminophen. An ice pack against the outside jaw may also help, but be careful not to apply ice directly to the skin. And under no circumstances rub aspirin or other painkiller directly on the gums—like ice, these products can burn the skin. If these efforts don't help you should try to see us the same day or first thing the next morning for advanced treatment.
The main thing is not to panic. Knowing what to look for and when to see us will help ensure your child's tooth pain will be cared for promptly.
If you would like more information on handling dental issues with your child, please contact us or schedule an appointment for a consultation. You can also learn more about this topic by reading the Dear Doctor magazine article "A Child's Toothache."
By Bren O'Connor DDS, Fred Riddle DDS
March 15, 2018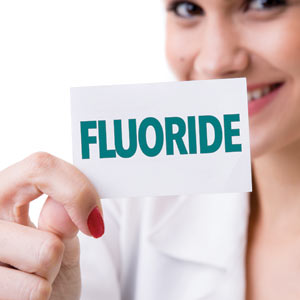 Fluoride is an important weapon in the fight against tooth decay. Fluoride consumption and other applications are especially beneficial during children's dental development for building strong teeth long-term.
But the truism "too much of a good thing" could aptly apply to fluoride. If a child consumes too much fluoride over an extended period of time, it could cause a condition called enamel fluorosis in which the enamel surface develops mottled or streaked staining. It's not harmful to the tooth's health, but it can greatly diminish a person's smile appearance.
To avoid fluorosis, it's important with the help of your dentist to know and regulate as much as possible the amount of fluoride your child receives. Here are 3 fluoride sources you should manage.
Toothpaste. Many manufacturers add fluoride to their toothpaste formula, usually an important way to receive this tooth-strengthening chemical. But younger children tend to swallow more toothpaste than older children or adults. Because the chemical builds up in the body over time, swallowing toothpaste every day could potentially elevate your child's fluoride levels. To avoid this, just use a "smear" of toothpaste on the brush for children under age 2, and a pea-sized amount for older children.
Your water system. About three-quarters of all public water utilities add fluoride to their water as an added measure for tooth decay prevention. The amount can vary from system to system, although the maximum amount recommended by the U.S. Government is 0.70 parts per million (PPM). You can ask your local water system how much fluoride, if any, is present or they add to your drinking water.
Bottled water. Any type of bottled beverage (water, juices, sodas, etc.) could contain various levels of fluoride. Unfortunately there are no labeling requirements regarding its presence, so the most prudent course is to carefully manage the beverages your child drinks, or stay with bottled water marked "de-ionized," "purified," "demineralized" or "distilled," which typically have lower fluoride levels. For babies feeding on milk, you can use the aforementioned bottled waters to mix powder, use ready-to-feed formula (also low in fluoride) or breast-feed.
If you would like more information on fluoride and your baby, please contact us or schedule an appointment for a consultation. You can also learn more about this topic by reading the Dear Doctor magazine article "Tooth Development and Infant Formula."