My Blog
Posts for tag: gum recession
By Bren O'Connor DDS, Fred Riddle DDS
January 19, 2019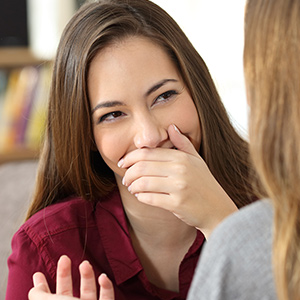 Besides attractively showcasing your teeth, your gums protect your teeth and underlying bone from bacteria and abrasive food particles. Sometimes, though, the gums can pull back or recede from the teeth, leaving them exposed and vulnerable to damage and disease.
Here are 4 things that could contribute to gum recession—and what you can do about them.
Periodontal (gum) disease. This family of aggressive gum infections is by far the most common cause for recession. Triggered mainly by bacterial plaque, gum disease can cause the gums to detach and then recede from the teeth. To prevent gum disease, you should practice daily brushing and flossing and see your dentist at least twice a year to thoroughly remove plaque. And see your dentist as soon as possible for diagnosis and treatment at the first sign of red, swollen or bleeding gums.
Tooth position. While a tooth normally erupts surrounded by bone, sometimes it erupts out of correct alignment and is therefore outside the bony housing and protective gum tissue. Orthodontic treatment to move teeth to better positions can correct this problem, as well as stimulate the gum tissues around the involved teeth to thicken and become more resistant to recession.
Thin gum tissues. Thin gum tissues, a quality you inherit from your parents, are more susceptible to wear and tear and so more likely to recede. If you have thin gum tissues you'll need to stay on high alert for any signs of disease or problems. And you should also be mindful of our next common cause, which is….
Overaggressive hygiene. While it seems counterintuitive, brushing doesn't require a lot of "elbow grease" to remove plaque. A gentle scrubbing motion over all your tooth surfaces is usually sufficient. On the other hand, applying too much force (or brushing too often) can damage your gums over time and cause them to recede. And as we alluded to before, this is especially problematic for people with thinner gum tissues. So brush gently but thoroughly to protect your gums.
If you would like more information on treating gum recession, please contact us or schedule an appointment for a consultation. You can also learn more about this topic by reading the Dear Doctor magazine article "Gum Recession."
By Bren O'Connor DDS, Fred Riddle DDS
October 31, 2018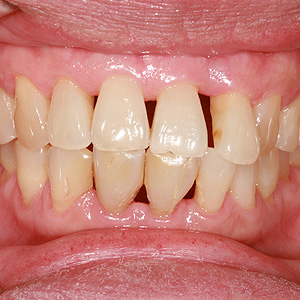 Your teeth are meant to last a lifetime. Even with wear and tear from years of eating and biting they can continue to function properly and look attractive well into your senior years.
Teeth are resilient thanks in part to enamel, the hardest substance in the human body. But the gums also contribute to this resilience: besides attractively framing the teeth, they protect the dentin and roots below the enamel covering.
Unfortunately, the gums can shrink back or "recede" from their normal place. Not only does this look unattractive, the recession can also expose teeth to disease and cause tooth sensitivity to temperature changes or biting pressure.
There are a number of causes for gum recession, some of which you may have little control over. If, for example, your teeth come in off center from their bony housing, the gum tissues may not develop around them properly. You might also have inherited a thinner type of gum tissue from your parents: thinner tissues are more delicate and susceptible to recession.
But there are other causes for which you have more control. Over-aggressive brushing (too hard for too long), ironically, does more harm than good as it can injure your gums and cause them to recede. More likely, though, your recession is a direct result of neglecting proper hygiene for your teeth and gums.
When teeth aren't properly cleaned through daily brushing and flossing, a thin film of bacteria and food remnant called plaque builds up on tooth surfaces. This can trigger periodontal (gum) disease, which subsequently causes the gum tissues to detach from the teeth and often recede.
To reduce your risk of gum disease, you should gently but thoroughly brush and floss daily, and visit us for cleanings and checkups at least twice a year. If you have a poor bite (malocclusion), consider orthodontic treatment: malocclusions make it easier for plaque to accumulate and harder to remove.
Above all, if you begin to see signs of gum problems — swelling, bleeding or pain — see us promptly for an examination and treatment. Dealing with these issues early is the best way to ensure your gums continue to do their jobs for the long-term.
If you would like more information on the treatment and prevention of gum disease, please contact us or schedule an appointment for a consultation.
By Bren O'Connor DDS, Fred Riddle DDS
August 11, 2016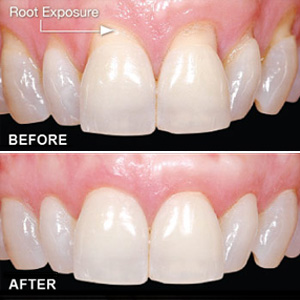 Gum recession — when the gum tissue covering teeth wears away — is a serious matter. If the roots become exposed you'll not only have increased sensitivity and possible discomfort, your teeth can become more susceptible to decay.
There are a number of reasons for gum recession, including overaggressive brushing and flossing, poor fitting appliances like dentures or braces, or genetics (inheriting a thin gum tissue type or poor tooth position). Perhaps the most common reason, though, is periodontal (gum) disease. Caused by bacterial plaque, a thin film of food particles that builds up on tooth surfaces, the disease weakens the gum tissues around teeth, causing them ultimately to detach and "roll up" toward the roots.
Treating the gum infection by removing the built-up plaque and calculus (hardened plaque deposits) will help stop recession or even reverse it. Â As we remove plaque the infection subsides and the gums cease to be inflamed. If they haven't receded too far they may re-grow and renew their attachment to the teeth.
In other cases, though, the recession may have progressed too far and too rapidly toward root exposure. Gums in this condition may require tissue grafts to the recessed area to create or regenerate new tissue.
Most grafting techniques fall into one of two categories. The first is known as free gingival grafting where a thin layer of skin is removed or "freed" from the roof of the patient's mouth (the palate), shaped and then stitched to the recession site.
The second category is called connective tissue grafting, most often used to cover exposed roots. In this case the donor material is transplanted from the donor site to the recipient site, but the recipient site's tissue covers the donor connective tissue graft as it still maintains a physical attachment to the original location. The recipient site can thus maintain a blood supply, which can result in quicker, more comfortable healing than with free gingival grafting.
Connective tissue grafting does, however, require sophisticated microsurgical techniques, along with the surgeon's in-depth skill and art, to prepare both the donor and recipient sites. Allografts (donor skin from another person) may also be used as a donor tissue and placed beneath the recipient site tissue thereby avoiding a second surgical site.
Gum tissue grafting can be an intense undertaking, but the results can be astounding. Not only will restoring recessed gum tissues give your teeth a new lease on life, it will revitalize your smile.
If you would like more information on treatment for gum recession, please contact us or schedule an appointment for a consultation. You can also learn more about this topic by reading the Dear Doctor magazine article "Periodontal Plastic Surgery."