My Blog
Posts for tag: oral health
By Bren O'Connor DDS, Fred Riddle DDS
September 21, 2018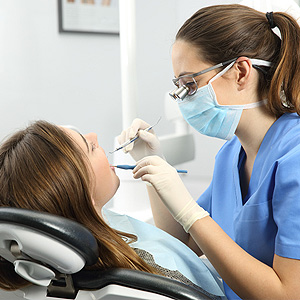 When things get unpleasant in your mouth, it's most often related to some underlying cause. In fact, the discomfort you're feeling is often a call to action to have it checked and treated.
The American Dental Association recently surveyed approximately 15,000 U.S. adults about their oral problems. If you have any of the top 3 problems found in this survey, it could be a "warning bell" sounding in your mouth right now.
Here, then, are the top 3 dental problems in America, what they mean and what you should do about them.
#3: Tooth Pain. About a third of respondents (more among those younger or from lower-income households) indicated pain as a problem. As a warning sign of something wrong, tooth pain could be telling you that you have a decayed tooth, a gum abscess or something similar. The best thing to do is get a checkup as soon as possible. It's unlikely that whatever is causing the pain will go away on its own and procrastination could make ultimate treatment more complex and difficult.
#2: Difficulty Biting. A slightly higher number of people named difficulty chewing and biting as their main oral problem. As with tooth pain, chewing difficulty causes could be many: cracked, loose or decayed teeth, ill-fitted dentures, or a jaw joint disorder (TMD). Again, if it hurts to chew or bite, see a dentist. Besides the underlying problem, chewing difficulties could also affect the quality of your nutrition.
#1: Dry Mouth. Chronic dry mouth garnered the highest response in the survey, especially among older adults. This is more serious than the occasional "cotton mouth" feeling we all experience—with chronic dry mouth the salivary glands aren't producing enough saliva to neutralize mouth acid or fight disease, thus increasing your risk for tooth decay or periodontal (gum) disease. It's most likely caused by medications or systemic conditions, so talk with your dentist or physician about boosting saliva flow.
If you would like more information on comprehensive dental care, please contact us or schedule an appointment for a consultation.
By Bren O'Connor DDS, Fred Riddle DDS
September 11, 2018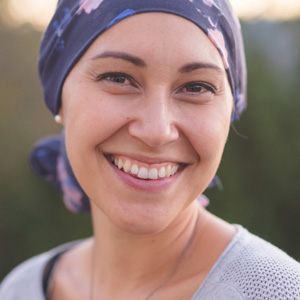 Cancer treatment can be an all-out battle with intense side effects for your entire body. One particular area that can suffer is your mouth.
Chemotherapy and radiation target and destroy cancer cells, which can lead to non-cancerous cells caught in the crossfire and also destroyed. The salivary glands in the mouth are prone to such damage, which could greatly impact your ability to ward off dental disease.
Saliva, what salivary glands produce, plays a major role in oral health. The bodily fluid disseminates antibodies throughout the mouth that fight disease-causing bacteria. It also neutralizes acid, which can erode tooth enamel, and helps restore lost minerals to the enamel.
If the salivary glands become damaged, however, they may produce less saliva and create a condition called xerostomia or "dry mouth." This is a common occurrence for cancer patients, which can rob them of saliva's benefits and make them more susceptible to tooth decay or periodontal (gum) disease. The end result could be tooth loss.
There are things you and your dentist can do to prevent this. First, have a complete dental checkup before undergoing cancer treatment. If at all possible have any necessary dental work undertaken (with adequate recovery time afterward) before beginning chemo or radiation. Your dentist and oncologist (cancer specialist) may need to coordinate any planned dental work.
You should also practice daily oral hygiene with brushing and flossing, along with keeping up your regular dental cleanings. This will prevent the buildup on teeth of bacterial plaque, which in turn will reduce your chances for dental disease. Your dentist may also prescribe antibacterial as well as fluoride mouth rinses to help limit the growth of oral bacteria.
To minimize dry mouth, increase your water consumption as much as possible. You may also use saliva boosters like xylitol, an alcohol-based sweetener found in many gums or mints that promotes salivation (it also deters oral bacterial growth).
And don't forget to maintain a healthy diet, which will not only benefit your stamina during cancer treatment but can also help you maintain better dental health. Providing good care for your mouth during this trying time will help ensure your teeth and gums stay as healthy as possible.
If you would like more information on oral care, please contact us or schedule an appointment for a consultation. You can also learn more about this topic by reading the Dear Doctor magazine article "Oral Health During Cancer Treatment."
By Bren O'Connor DDS, Fred Riddle DDS
April 17, 2017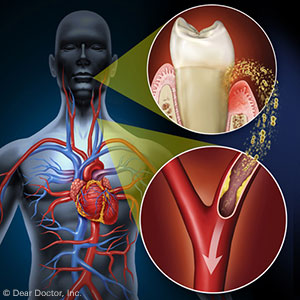 If you have periodontal (gum) disease, it's important for you to know its effects aren't limited to your mouth. A number of studies demonstrate gum disease can affect the rest of your body — and what may be going on elsewhere could likewise stimulate gum disease.
Here are 3 diseases or conditions that seem to share a link with gum disease.
Diabetes. This chronic disease results from the body's inability to interact properly with insulin, the hormone necessary for turning glucose (sugar) into energy, or producing enough of it. There's clear evidence that having diabetes increases your risk of gum disease and vice-versa. If you have diabetes, it's important that you keep it under control for your gum's sake as much as for your overall health.
Cardiovascular disease. Like diabetes, this group of heart and blood vessel diseases has a related characteristic with gum disease: inflammation. This natural function of the immune system limits tissue damage caused by disease or injury. But in both CVD and gum disease, inflammation can become chronic and itself cause damage. Further, some types of bacteria associated with gum disease can contribute to a higher risk of CVD. Minimizing gum disease occurrence with good oral hygiene could positively impact your risk of CVD.
Pregnancy. While certainly not a disease, pregnancy does trigger hormonal changes in the mother that in turn could elevate her risk of gum disease, particularly pregnancy gingivitis. Not only does this pose problems for the mother's teeth and gums, some studies connect gum disease to the increased possibility of early, pre-term birth. A sharper focus on dental care during pregnancy not only benefits the mother but may also be important for the health of the baby.
These aren't the only conditions that can be affected by gum disease: others like osteoporosis, respiratory disease or rheumatoid arthritis also share links with the disease. If you have any systemic condition like these, it pays to be extra vigilant in preventing and treating gum disease.
If you would like more information on periodontal (gum) disease, please contact us or schedule an appointment for a consultation. You can also learn more about this topic by reading the Dear Doctor magazine article "Good Oral Health Leads to Better Health Overall."