My Blog
Posts for tag: orthodontics
By Bren O'Connor DDS, Fred Riddle DDS
December 29, 2017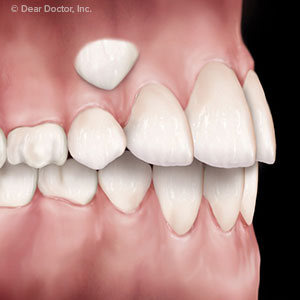 What makes an attractive smile? Of course, shiny, straight and defect-free teeth are a big factor. But there's another equally important element: all your teeth have come in.
Sometimes, though, they don't: one or more teeth may remain up in the gums, a condition known as impaction. And if they're in the front like the upper canines (the pointed teeth on either side of the front four incisors) your smile's natural balance and symmetry can suffer.
Impaction usually happens due to lack of space on a small jaw. Previously erupted teeth crowd into the space of teeth yet to come in, preventing them from doing so. As a result the latter remain hidden within the gums.
While impaction can interfere with the smile appearance, it can cause health problems too. Impacted teeth are at higher risk for abscesses (localized areas of infection) and can damage the roots of other teeth they may be pressing against. That's why it's desirable for both form and function to treat them.
We begin first with an orthodontic examination to fully assess the situation. At some point we'll want to pinpoint the impacted teeth's precise location and position. While x-rays are useful for locating impacted teeth, many specialists use cone beam CT (CBCT) technology that produces highly detailed three-dimensional images viewable from different vantage points.
If the tooth is in too extreme a position, it might be best to remove it and later replace it with a dental impact or similar restoration once we've completed other necessary orthodontic treatment. But if the tooth is in a reasonable position, we might be able to "move" the tooth into its proper place in the jaw in coordination with these other tooth-movement efforts to make room for it.
To begin this process, an oral surgeon or periodontist surgically exposes the tooth crown (the normally visible portion) through the gums. They then bond a small bracket to the crown and attach a small gold chain. An orthodontist will attach the other end to orthodontic hardware that will exert downward pressure on the tooth to gradually bring it into normal position.
Dealing with impacted teeth of this nature is often part of a comprehensive effort to correct the bite. If we're successful, it could permanently transform both the smile and overall dental health.
If you would like more information on treating impacted teeth, please contact us or schedule an appointment for a consultation. You can also learn more about this topic by reading the Dear Doctor magazine article "Exposing Impacted Canines."
By Bren O'Connor DDS, Fred Riddle DDS
October 03, 2016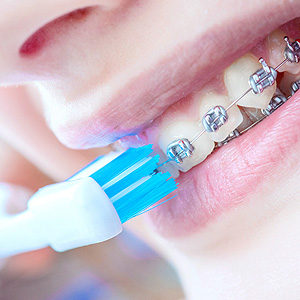 Orthodontic treatment is a big investment. But given the benefits for future good health and a more attractive smile, it's well worth it.
In the here and now, though, braces wearers face a different threat to their dental well-being — dental disease. Wearing braces can actually increase the risk of disease and make it more difficult to fight.
Tooth decay and periodontal (gum) disease, the two most common forms of dental disease, usually arise from plaque, a thin film of bacteria and food particles on tooth surfaces. The bacteria produce acid, which erodes enamel and makes the teeth susceptible to decay. Certain bacteria can also infect the gums and eventually weaken their attachment to teeth. Thorough brushing and flossing everyday removes this disease-triggering plaque buildup.
But braces' hardware can make brushing and flossing more difficult. The brackets attached to the teeth and wires laced through them make it more difficult for floss and brush bristles to access all the areas around the teeth. Plaque can build up in certain spots; it's estimated braces wearers have two to three times the plaque of a person not wearing braces. Acid can also remain in contact with some of the enamel surface for too long.
It's important, therefore, if you wear braces to make a concerted effort to brush and floss thoroughly. Besides improving technique and taking more time, you might also consider additional aids. You can obtain toothbrushes specially designed for use with braces, as well as floss holders or threaders that make it easier to access between teeth. Another flossing alternative is an oral irrigator that sprays water under pressure between teeth is an alternative to flossing.
As a precaution against acid damage, we can boost enamel protection with additional fluoride applied to your teeth. We may also prescribe antibacterial rinses to keep the bacteria population low.
Above all, be sure to look out for signs of disease like swollen or bleeding gums or pain. As soon as you sense something out of the ordinary, be sure and contact us.
If you would like more information on keeping your teeth disease-free while wearing braces, please contact us or schedule an appointment for a consultation. You can also learn more about this topic by reading the Dear Doctor magazine article "Caring for Teeth During Orthodontic Treatment."
By Bren O'Connor DDS, Fred Riddle DDS
September 25, 2016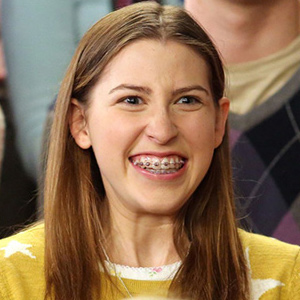 Fans of the primetime TV show The Middle were delighted to see that high school senior Sue, played by Eden Sher, finally got her braces off at the start of Season 6. But since this popular sitcom wouldn't be complete without some slapstick comedy, this happy event is not without its trials and tribulations: The episode ends with Sue's whole family diving into a dumpster in search of the teen's lost retainer. Sue finds it in the garbage and immediately pops it in her mouth. But wait — it doesn't fit, it's not even hers!
If you think this scenario is far-fetched, guess again. OK, maybe the part about Sue not washing the retainer upon reclaiming it was just a gag (literally and figuratively), but lost retainers are all too common. Unfortunately, they're also expensive to replace — so they need to be handled with care. What's the best way to do that? Retainers should be brushed daily with a soft toothbrush and liquid soap (dish soap works well), and then placed immediately back in your mouth or into the case that came with the retainer. When you are eating a meal at a restaurant, do not wrap your retainer in a napkin and leave it on the table — this is a great way to lose it! Instead, take the case with you, and keep the retainer in it while you're eating. When you get home, brush your teeth and then put the retainer back in your mouth.
If you do lose your retainer though, let us know right away. Retention is the last step of your orthodontic treatment, and it's extremely important. You've worked hard to get a beautiful smile, and no one wants to see that effort wasted. Yet if you neglect to wear your retainer as instructed, your teeth are likely to shift out of position. Why does this happen?
As you've seen firsthand, teeth aren't rigidly fixed in the jaw — they can be moved in response to light and continuous force. That's what orthodontic appliances do: apply the right amount of force in a carefully controlled manner. But there are other forces at work on your teeth that can move them in less predictable ways. For example, normal biting and chewing can, over time, cause your teeth to shift position. To get teeth to stay where they've been moved orthodontically, new bone needs to form around them and anchor them where they are. That will happen over time, but only if they are held in place with a retainer. That's why it is so important to wear yours as directed — and notify us immediately if it gets lost.
And if ever you do have to dig your retainer out of a dumpster… be sure to wash it before putting in in your mouth!
If you would like more information on retainers, please contact us or schedule an appointment for a consultation. You can learn more in the Dear Doctor magazine articles "The Importance of Orthodontic Retainers" and "Why Orthodontic Retainers?"